Automation & Controls
GrayMatter's family of brands does the best automation work in the world. Our fast-growing team has spent their careers solving problems for operators and managers in food and beverage, life sciences, critical infrastructure, process and diversified industrials.
Our co-innovative approach makes the GrayMatter team stand out, collaborating in offices from Pittsburgh, PA, Kalamazoo, MI, Columbus, OH, Richmond, VA, Newark, DE to India.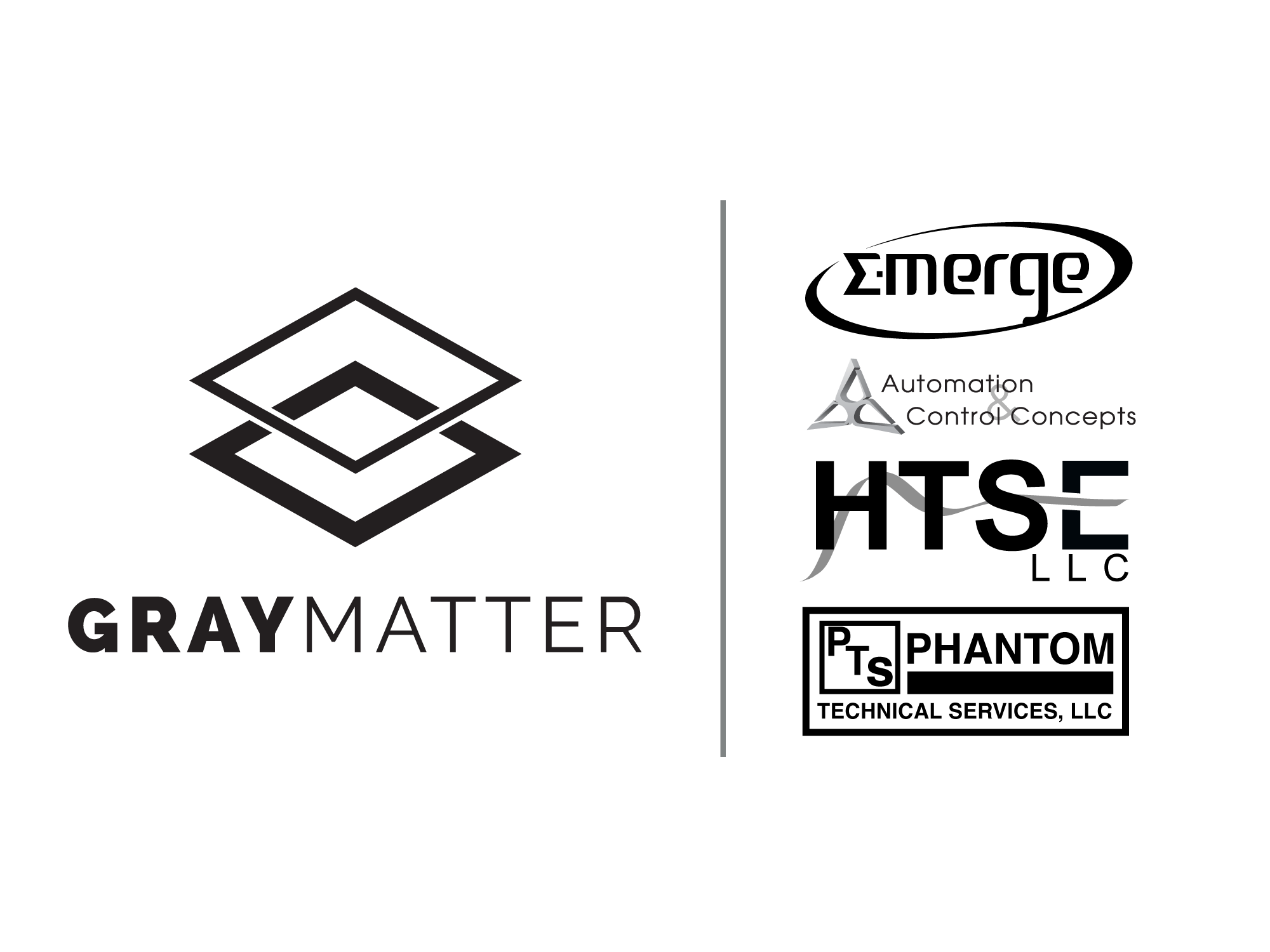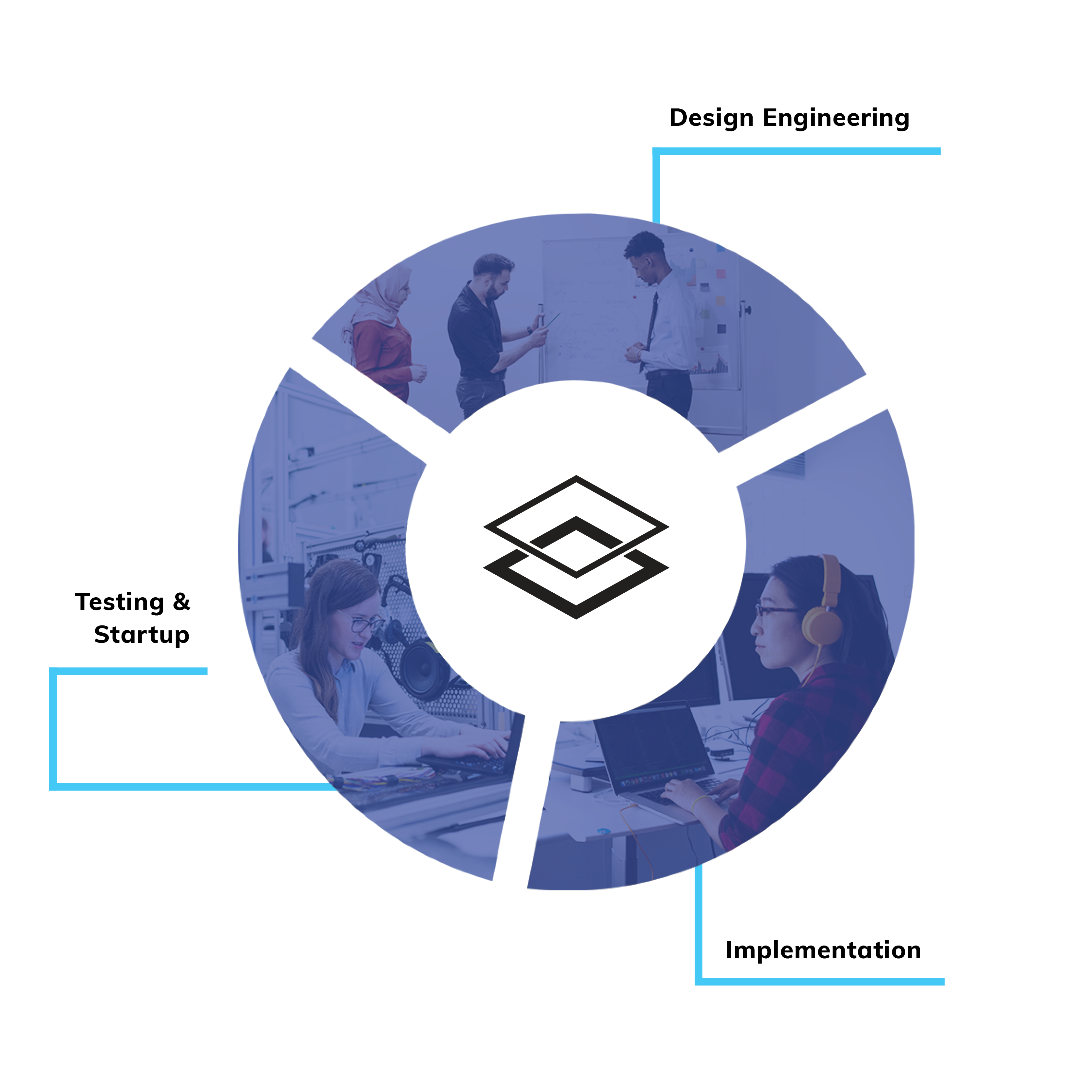 "Process Automation is a core strength of GrayMatter.  We can go into any chemical, life sciences or water/wastewater facility, figure out the processes and document them, develop P&IDs, Functional Description Specification (FDS) and control strategies to come up with an appropriate solution to meet or exceed client requirements."
Design Engineering
Identify the time, materials and personnel needed to complete a project. Develop full schematics commissioning documents, checklists for equipment and controls and communication plan with key stakeholders.
PLC Mapping & Programming
Control Panel Modernization
Alarm Structure Optimization
Develop C&I system architecture, hardware, software, and applications
Develop P&IDs
Design Process Control Logic
Develop detailed specifications and drawings
Develop procedures for Maintenance of Plant Operations (MOPO) during construction
SCADA Design/Master Planning
HMI Screens - ISA 101
Radio Telemetry Design
CONTROL PANEL DESIGN
Control Panel Design (custom built from UL-listed industrial control panel shop in the U.S. and Canada)
Control Panel Build
– UL, cUL
Control Panel QCC
– Point-to-point (conductivity)
– Power Up (test for DOA components)
Program Download
–Setup & Test communications
Factory Acceptance Test (FAT) with GrayMatter or Customer Personnel
Implementation
Translate initial planning into action. Ensure data tags flow from devices to control systems and reporting and visualization tools for plant-floor operators and project leaders.
SCADA/HMI/MES systems
– Product Agnostic Approach
– System Integration (PLCs, MES, DCS, ERP)
– Remote Monitoring and Control Implementation
– Legacy System Migration
– ANSI/ISA-Compliant Dashboards
– ISA101 Standard Application
– Customized HMI & Style Guide Development
– Alarm & Notification Management
Process and Batching Automation
– Unique PhantomTrac Solution to meet all Process Batching requirements
Machine Control
– Full-scale electrical design and automation of Material Handling Systems
– Electrical design and automation of high-precision cutting systems
– Experienced in all levels of automation in machine environments, including full development, enhancements, and remediation of existing systems
DCS/PLC-based distributed process controls
Field devices, sensors, and instrumentation
Industrial networking to connect shop floor PLCs with SCADA workstations
Bridging process networks with business networks
Telemetry over radio, leased lines, CDMA/GSM, and POTs
Motion Applications ​
– Vast experience in Motion applications from simple, single axis servo systems, to multi-axis multi-machine systems
Reporting
Validation
Serialization
Testing & Startup
Calibrate in a passive, controlled environment and finalize go-live plans with operations and quality assurance personnel.
Rigorous UL-listed standards, acceptance testing, panel shop, on-site control engineers
Factory tests, calibrations, and loop checkout
DCS/PLC programming/configuration testing
Develop procedures for system startup
Troubleshoot Control Logic
Fine tune C&I loops
Interface with plant operations, system availability and acceptance testing
What a Project Timeline Looks Like
01

Receive Customer Request for Proposal

02

Create & Submit Proposal

03

Receive Purchase Order

04

Perform 30, 60, 90 Design Reviews

– Process Description
– Electrical Design (including CAD) of entire system including control panels
– PLC & HMI Design
– Vision Design
– SCADA Design


05

Create Issued-for-Construction Packages

– Scope of Work
– Electrical Drawings

06

Create Validation Documentation

– Change Request
– Specification Documents
– Testing Protocols

07

Program PLC/HMI/Vision/SCADA

08

Support Installation

09

Perform Start-up/Debug/Commissioning

10

Execute Validation

11

Turnover Final Deliverables to Customer

Food & Beverage
From soft drinks and fruit juices to infant formulas, cereals and candy, GrayMatter has the requisite controls knowledge and experience in the manufacturing and packaging of food and beverage products.
Packaging lines

Process control

Batching control systems

HVAC controls

Process manufacturing 


Life Sciences
GrayMatter provides automation  solutions to some of the world's largest life sciences companies – We have knowledge in the automation and validation of pharmaceutical process and packaging line control systems and a thorough understanding of regulatory compliance requirements. 
Packaging Lines
Process Control 
Serialization


Diversified Materials
GrayMatter helps manufacturing companies maximize throughput, lower operational costs and minimize the cost of re-engineering to accommodate changes as their facilities grow.
Controls design

PLC, DCS, and HMI application development

Industrial IT network design & deployment

Data acquisition, reporting and presentation


Process
GrayMatter provides automation and project support services for process manufacturers. We have extensive experience in the control of chemical manufacturing processes and equipment using robust DCS and PLC control technologies and associated operator interfaces.  
Pressure, temperature & flow control

Batching & Continuous control systems

Fired equipment

Reactor control

SIL - Safety Instrumented Systems

Process manufacturing 

Utilities, Water systems


Critical Infrastructure
GrayMatter has deep industry knowledge and experience working with the critical infrastructure and utility sectors. 
Evaluating/documenting of complex processes: identifying customer requirements
SCADA/HMI/MES systems
DCS/PLC-based distributed process controls
Field devices, sensors, and instrumentation
Telemetry over radio, leased lines, CDMA/GSM, and POTs
Start a Project
Ready to start a new automation and controls project? Let's talk.